A SOCIOLOGY OF JAPANESE LADIES' COMICS Images of the Life, Loves, and Sexual Fantasies of Adult Japanese Women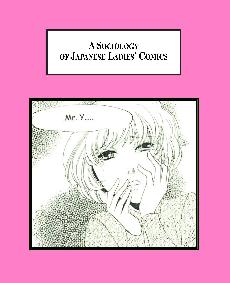 Author:

Ito, Kinko

Year:

2011

Pages:

300

ISBN:
0-7734-1420-7
978-0-7734-1420-4
Price:

$199.95

+ shipping
(Click the PayPal button to buy)
This work is a book about the history, content, and functions of ladies' comics, the most recent addition to the modern comics in Japan. This book employs the methodology of visual sociology which uses imagery as a source of data and material for analysis. It describes Japanese ladies' comics' unique history and explores how love and sexuality of Japanese women is depicted as a reflection of their everyday life.

Being a significant part of Japanese popular culture, manga (Japanese comics) as texts can be an extremely important subject matter for sociology, especially visual sociology, comparative cultural studies, Gender Studies, and anthropology. This book will contribute to the understanding of Japanese social reality, current social issues, and sexuality of adult women through the analysis of ladies' comics.

There are academics who have written books on manga for the general reader. However, there exist few books for English readers specifically on Japanese ladies' comics with a sociological orientation. This book can be used at many universities by scholars of Japanese studies and possibly by students in courses on popular culture, visual sociology, Asian Studies, International Studies, Gender Studies, and anthropology.
Reviews
"Putting her sociological background to use, Kinko analyzes protagonists in ladies' comics relative to social mores and values, such as honne, tatemae, giri, and ura, the double standard applied to men and women, modernity, and the stressful, often excruciating work ethic. She exemplifies these societal mores with short, but full, synopses taken form various ladies' manga. . .

The world of manga at times has been contradictory: innovative in genres, styles, and formats, as well as traditional in approaches to topics such as sexuality; often explicit in portraying violence and sex, yet also cautious not to show genitals or the sex act; at times, clear and straightforward, at other times, confusing and convoluted in storytelling techniques. Nevertheless, Japanese comics have been consistent in changing the route of the medium and becoming one of the wonders of contemporary culture. Dr. Kinko Ito has masterfully captured one aspect—ladies' manga—of this global phenomenon." – Dr. John A. Lent, Temple University

"With clarity and enthusiasm, Dr. Kinko Ito demonstrates that action, melodrama, erotica, and even educational themes have a place in ladies' comics. You do not have to be a manga fan to gain from reading this book." – Dr. Jan Bardsley, University of North Carolina

"Professor Ito takes special care in teasing out the reason why ladies' comics came to serve as cathartic release, escape from reality, and instructive sources of information and means to solve problems for its largely female readership. . . [this work] is a groundbreaking study of an ambitious topic, much awaited, much needed and something which should be in every library and in the studies and classrooms of all who work in manga and comics studies." – Dr. Lynne Miyake, Ponoma College
Table of Contents
Foreword
Acknowledgments
Introduction: Ladies' Comics and the Manga Culture of Japan
1. Introduction
2. What is Manga?
3. Categories of Story Manga
4. Manga and Education
5. Manga as Trendsetters
6. Manga as a Japanese National Obsession
6.1 Manga Is Everywhere and for Everyone
6.2 Manga as a Bonding Agent
6.3 Manga and Political Ideologies
6.4 Manga Cafés
6.5 Million Sellers
6.6 Comical People and the Tradition of Narratives in Japan
7. Summary and Conclusions

Chapter One: A Brief History of Japanese Ladies' Comics
1. Introduction
2. Women's Literature during the Heian Period (794–1185)
3. Early Popular Magazines for Girls and Women
4. The Early Development of Girls' Comics
5. An Interview with Masako Watanabe: Her Life and Japanese Comics
6. The Beginning of Girls' Comics
7. The Emergence of Weekly Girls' Comics
8. The Diversification of Girls' Comics
9. The Emergence of Japanese Ladies' Comics
10. Interviews with Asako Shiomi
11. Summary

Chapter Two: New Trends in Japanese Ladies' Comics: Diversification and Catharsis
1. Introduction
2. A Brief Description of Today's Japanese Ladies' Comics
3. Solicitation of Readers' Stories and Catharsis
4. Occupational Backgrounds and Gender Roles
5. Themes and Content for Catharsis: Tear-jerker Ladies' Comic Stories
6. Themes and Content for Catharsis—Stories of Horror and Fear
7. Publishers Pursue "What Sells"
8. Pornographic Japanese Ladies' Comics
9. Analysis
10. Summary

Chapter Three: Japanese Women's Sexuality in Ladies' Comics
1. Introduction
2. The Romantic Category
3. The Lustful Comics
3.1 Introduction
3.2 Conjugal Sex
3.3 S & M Scenes
3.4 Rape Play Fantasy
3.5 Masturbation
3.6 Voyeurism
3.7 Lesbian Sex
3.8 Extramarital Affairs
3.9 Incest
3.10 The Sex Industry of Japan in Ladies' Comics
4. Analysis
4.1 Sexuality and Modernity
4.2 Carnal Pleasure and Self
5. Summary

Chapter Four: Conclusion

Bibliography
Index

Other Japan & Japanese Studies Books