Music of Georges Auric: A Documented Catalogue in Four Volumes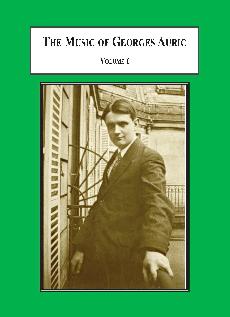 Author:

Schmidt, Carl B.

Year:

2012

Pages:

1740

ISBN:
0-7734-4058-5
978-0-7734-4058-6
Price:

$499.95

+ tax & shipping
(Click the PayPal button to buy)
This serves as the first comprehensive catalogue of the orchestral, vocal, and chamber music composed by Georges Auric, one of France's most important twentieth-century musicians. Approximately three hundred-fifty compositions are considered here with full descriptions of all known printed and manuscript sources; locations of literary works on which some are based; selections of important reviews; discographies and lists of videos; and relevant performance data including first performances or showings.

Auric was an influential figure in French art and culture and was widely known to the entire French artistic establishment. His compositional abilities were extremely facile and he could write a significant film score in the short time of a few weeks. On more than one occasion he scored four or more films in the same year in addition to a myriad of other duties.

He was a child prodigy who studied at the Paris Conservatory and the Schola Cantorum while still a teenager. Later in life he was a major member of the so called Les Six (Georges Auric, Louis Durey, Arthur Honegger, Darius Milhaud, Francis Poulenc, and Germaine Tailleferre), which was a major force in twentieth century music. With the recent interest in Auric's contribution to films, it provides rich detail culled from libraries and private archives around the world, numerous newspapers and journals, unpublished letters by Auric, and the secondary literature. With the publication of this catalogue all the members of Les Six are now represented.
Reviews
"This Auric catalogue too goes well beyond the mere listing of Auric's creative musical output. The musical entries are augmented with important and fascinating diverse references…Auric became an integral Parisian figure among the diverse personages that were woven into a multitude of aesthetic schools or movements in the realm of the beaux-arts: music, literature, the visual arts, cinema, the ballet and modern dance, and other religious, political, and philosophical domains."
Robert Shapiro,
Author of Les Six Compendium
Table of Contents
Volume One: Orchestral, Vocal, and Chamber Music
Abbreviations
Library Sigla
Foreword by Robert Shapiro
Acknowledgments
Preface
Introduction
Biographical Method
GA 1-GA 73
Volume Two: Orchestral, Vocal, and Chamber Music
Volume Three: Films, Television Programs, Spectacles
Volume Four: Films, Television Programs, Spectacles
Appendices to Part I:
1A. Chronological List of Compositions by or Arranged by Auric
1B. Chronological List of Unrealized Projects by Auric
2. Publisher's Anthology Devoted Exclusively to Auric's Piano Pieces
3. Inventories of Two Manuscripts Containing Multiple GA Works
Appendix to Part II:
4A. Chronological List of Films
4B. Chronological List of Television
Appendix 5: Addenda
Bibliography
Newpapers, Journals, and Revues Cited
Index of Compositions or Unrealized Projects by Georges Auric
Index of Song Titles and First Lines to Auric's Vocal Works or Works Containing Sung Texts
Index of Compositions and Titles not by Georges Auric

Other Music & Musicology Books
More Books by this Author