PHILOSOPHICAL REFLECTIONS ON PHYSICAL STRENGTH:


Does a Strong Mind Need a Strong Body?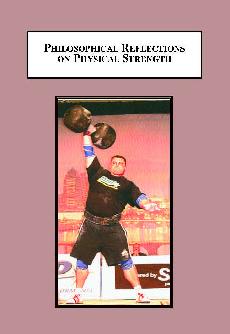 Author:

Holowchak, Mark A., and Terry Todd

Year:

2010

Pages:

300

ISBN:
0-7734-3825-4
978-0-7734-3825-5
Price:

$199.95
This collection of essays philosophically examines strength, considered in its brute, physical sense. This is the only book of its kind solely dedicated to physical strength. Each contributor has expertise in strength sports, three at the world-class level, or in an area of philosophy of sport, related to strength.
Reviews
"The collection includes interviews with top male and female athletes in strength sports. These were illuminating in what they revealed about the attitudes of the athletes and, in the case of interview of Jill Mills, in bringing out the problems faced by women participating in strength sports." – Prof. Robert L. Simon, Hamilton College

"This book fills a gap in the philosophy of sport literature; but it enhances the literature as well by addressing strength in the context of issues traditionally discussed, such as aesthetics, epistemology, gender, history, and performance-enhancing drugs." – Dr. Jan Boxill, University of North Carolina, Chapel Hill

"All of the chapters, whose eclectic mix contributed to, rather than distracted from, the overall coherence of the book, are well written, easily accessible, and engaging. This is not common in anthologies of this kind, and a real strength (no pun intended) of the book."– Prof. William Morgan, University of Southern California
Table of Contents
Preface by M. Andrew Holowchak, Muhlenberg College
Acknowledgments
Foreword by J.S. Russell, Langara College
Part I: What Is Strength'
"Does Powerlifting Really Test for Power?" – Samer Saab, The Lebanese American University
"What It Really Takes to be the World's Strongest Man" – M. Andrew Holowchak, Muhlenberg College
"Reflections, Philosophical and Otherwise, on 'Strength" – Žydrunas Savickas, Strongman Legend
Part II: Strength & Being
"Heidegger and Schwarzenegger: Being and Training – Jerry Sandau
"The Ki to Strength in the Martial Arts" – Allan Back, Kutzlown University
Part III: Strength, Beauty, & Knowing
"Philosophical and Practical Considerations for a Strongman Contest" – Terry Todd, University of Texas/Powerlifting and Weightlifting Champion
"Aesthetic and Epistemic Aspects of 'Iron Games" – John Bender, Ohio University
Part IV: Strength & Ethics
"Charles Atlas and the Meaning of Life" – Ray Belliotti, State University of New York, Fredonia
"Hercules' Dilemma: Is Strength Really a Virtue?" – Heather Reid, Morningside College
Part V: Strength & Gender
"Extreme Beauty: Size and Sexism in Women's Strength Sports" – Jill Mills, Two-Time ESPN's World's Strongest Woman
"Is Women's Bodybuilding 'Unfeminine'?" – Melina C. Bell, Washington and Lee University
Part VI: Strength & Technology
"Gene Doping and Strength" – Angela Schneider, University of Western Ontario
"Strong Medicine: Drugs and Sports Redux" – Michal Lavin