A Translation from "Pavan" into English of Angelo Beolco's Parlamento de Ruzante, qual giera stò in campo / Ruzante's Discourse on Coming Back from the Battlefield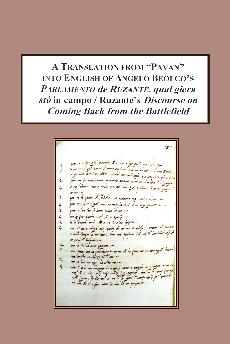 Author:
Fanelli, Carlo
Trumper, John Bassett
Year:

2012

Pages:

128

ISBN:
0-7734-4078-X
978-0-7734-4078-4
Price:

$139.95

(Click the PayPal button to buy)
The present study is divided into three parts, the first of which is an in-depth introduction by Carlo Fanelli to the authors and problems of 16th century Renaissance Italian dialect comedy and the relevance of a playwright such as Angelo Beolco (RUZANTE). Particular attention is paid to the comedy from the point of view of the social problems presented by veterans or deserters after long and socially disastrous wars.

The second part is a short introduction to the manuscript history of RUZANTE's dialect comedy El Parlamento prior its printing by Stefano Alessi at Venice in 1551. The Verona Codex 36 is datable to 1524, the Marciana (Venice) IT.XI,66 (in worse conditions as a manuscript) is of a later period (1526-1542), the first probably used by the playwright to prepare the comedy for staging: Verona Codex 36 is here presented in the third part with suggested modifications and a possible theatrical translation into modern English. Parts 2 and 3 are by John B Trumper.
Reviews
"A new English edition of a Ruzante work, translated specifically for an English-speaking theatre and audience, is a welcome addition to the existing studies." -Prof. Gino Belloni, Venice University
Table of Contents
Foreword by Gino Belloni

Preface by John Trumper and Carlo Fanelli

Part I Angelo Beolco Known as Ruzante and His Poetic of Snaturale

From Beolco to Ruzante, Biographical Highlights

Ancient Traditions and Modern Studies

A Comic anti-canon. The First Rustic Comedies

Ruzante's Theatrical Wisdom

Entrance to the Court: the Late Comedies and the Comic Canon

Part II Ruzante's War Theatre, or teatro della crudeltà contadina

The Evil Comedies

Ruzante's Ethics of Natural

The Parlamento and Bilora. A Tragi-comic Diptych

The Parlamento: History, Dramaturgical Texture, Language, Characters

From Venice to Europe. The Parlamento'sPerformances from '500 to '900

Modern Editions of the Parlamento

Quoted Studies (Parts I&II)

Part III

1. The Editions

2. The Language

Quoted Studies (Part III)

Part IV

Verona ms. 36 Folio 57V

Il Parlamento

Notes to the "Pavano"
Other Italy & Italian Studies Books