The Life, Poetry, and Music of the Provencal Troubadour Perdigon: Texts, Translations, and Interpretations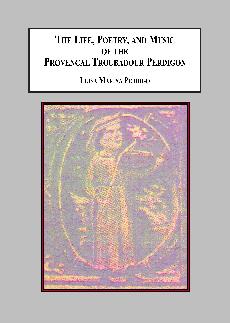 Author:

Perdigó, Luisa Marina

Year:

2013

Pages:

536

ISBN:
0-7734-4523-4
978-0-7734-4523-9
Price:

$299.95

+ shipping
(Click the PayPal button to buy)
There are only a select few poems by Perdigon that survive to this day. This is an amazing tour de force, in that these translations render him accessible to audiences in English and Spanish. He ranks among the finest poets in any vernacular language. This research presented in notes and descriptive analysis demonstrates the impressive range of influence he once had.
This volume demonstrates through text, translation, and analyses, the poet Perdigon is an ingenious master craftsman in his own right who can afilatz, or hone, an image or a metrical device to perfection. This book reclaims Perdigon from the shadows of obscurity.
This troubadour poet found a way to express the trials of the heart at war with itself, a spirit subject to love, and a sense of worth determined by the acceptance or rejection of the Beloved Lady.
Reviews
"The songs of Perdigon are masterful examples of the Troubadours' expression…it is their gift to their world and ours. Dr. Perdigo's volume is set to reclaim for the twenty first century an important Troubadour voice."
Dr. Joel N. Feimer,
Mercy College

"Dr. Perdigo's work is an important contribution to the study of a poet not very well known to us. She examines the work of Perdigon and demonstrates the powerful possibilities of close textual analysis, coupled with a firm scholarly and theoretical framework...these are the first translations of Perdigon's poems into English and Spanish ever made by any literary scholar in the United States."
-Prof. Flora Schiminovich
Barnard College, Columbia University
Other Literature - Spanish Books
More Books by this Author