Magic Flute Libretto: More Literary, Religious and Historical Sources and Their Interprettions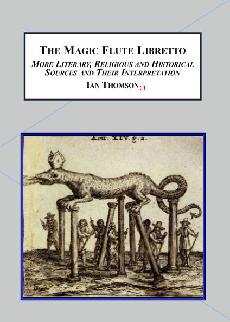 Author:

Thomson, Ian

Year:

2014

Pages:

480

ISBN:
0-7734-0059-1
978-0-7734-0059-7
Price:

$279.95

(Click the PayPal button to buy)
Awarded the Adele Mellen Prize for Distinguished Contribution to Scholarship
This libretto-based study exposes the existence of an overriding purpose rooted in late-eighteenth-century eschatological thought. It also offers a new perspective on the opera's origins.

Dr. Thomson examines the Alberti libretto of The Magic Flute (Die Zauberflöte) as a literary form and reveals unexamined literary, historical and religious sources, leading to a new, more coherent interpretation of the opera and to hypotheses about the identity of the libretto's author and Mozart's death.


Reviews
ABSTRACT:

The general consensus to date is that Die Zauberflöte is a folk tale in the Singspiel tradition of Viennese theatre and contains references to contemporary Freemasonry. Some late twentieth-century commentators have identified other themes which cannot be reconciled with Freemasonry. Current explanations of the opera are not cohesive. The question "what is Die Zauberflöte actually about?" remains one of the unanswered questions in European art.

Contrary to past approaches which have sought to find meaning in the opera's music, this book examines meaning in the libretto text. The approach is entirely new. Opera librettos have not received the same critical attention as other creative literature. Unrecognized literary, religious and historical sources are here exposed for the first time and the result is an integrated interpretation of the opera. The libretto emerges as a masterpiece of ambiguity with the following features:

It is a dream drama. The hero Tamino enters the underworld at the beginning of Act 1 and makes an apocalyptic return at the end of Act 2. Classical sources form a substrate for Christian references: Tamino's alchemic rebirth becomes a theophany akin to the Second Advent of Christ prophesied in the Revelation of St. John the Divine. This prophecy had a widespread and profound effect on western-European civilization, notably through Lutheranism and Rosicrucianism, and particularly during the late-eighteenth century when many Europeans believed that the return of Christ was imminent. The libretto is firmly rooted in that eschatological and evangelical Protestant culture.

The libretto also refers to conflict between Protestants and Catholics during the sixteenth and early-seventeenth centuries. This conflict is dramatized in the hostility between Sarastro and the Queen whose roles, and those of the other main characters, form part of a roman à clef rooted in early-seventeenth-century England. The focus of this roman à clef is the marriage between the English princess Elizabeth and Frederick V of Bohemia, whose return from death as a Christ-figure became the subject of prophecy. The libretto enacts what in 1791 was a long-cherished Protestant dream of the recovery of Bohemia from Austria.

Further references juxtapose monarchy with republicanism and dramatize the overthrow of the former by the latter. The envisaged New Jerusalem is a republican Protestant utopia.

New light is also shed on the opera's title and authorship, and on Mozart's death.


Table of Contents
Acknowledgements
Abbreviations
List of illustrations
Other artworks mentioned in the text
A calendar of relevant events
A summary of the onstage drama
References to Acts and Scenes
Translation notes
Introduction
Chapter 1: Viennese origins
Chapter 2: A commentary on critical opinion to date
Chapter 3: A new approach
Chapter 4: The underworld drama and Tamino's virtue
Chapter 5: The significance of Papageno and Papagena
Chapter 6: Tamino's alignment with the Christ-figure
Chapter 7; The Implication of chivalric sources
Chapter 8: The basis of conflict between Sarastro and the Queen
Chapter 9: The roman à clef: necessary background
Chapter 10: Part A: The Queen
Part B: Pamina and Tamino
Part C: Sarastro
Part D: Monostatos
Part E: Papageno and Papagena
Chapter 11: The alchemic process in the roman à clef
Chapter 12: The opera's republican purpose
Chapter 13: The librettists and the development of the libretto
Chapter 14: Some implications
Epilogue
Annex A: An English translation of the Playbill for the first performance
Bibliography
Name Index
General Index
Illustrations

Other Music & Musicology Books
More Books by this Author