How Do High School Students Make the Transition to University? Factors Contributing to Success or Failure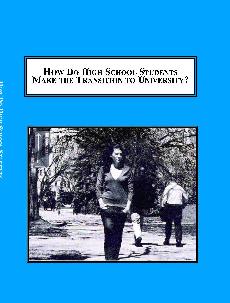 Author:

Hill, S. Laurie

Year:

2010

Pages:

440

ISBN:
0-7734-1318-9
978-0-7734-1318-4
Price:

$259.95

(Click the PayPal button to buy)
This qualitative study provides a framework for planning institutional change and
considering present institutional practices by examining the challenges and rewards
experienced by first-year students in regard to adapting to the academic and social
culture of a large commuter university.
Reviews
"[this book]should be of paramount importance to post-secondary educators . . .it serves to remind us that the stories behind the statistics are well worth taking the time to listen to. . ."
­-Prof. Doug Brent
University of Calgary

Author's Abstract:
The transition from compulsory public education to optional post-secondary education is recognized as a pivotal point in student success at university. While there has been much research on the undergraduate experience, there have been few studies exploring the specific transition experiences of frosh students. The purpose of this research is to understand the educational experiences that shape transitions, sense of institutional fit, and educational goals of first-year undergraduate students at a large university in Western Canada. The influence of gender in each of these areas is explored. This research builds upon previous research about student transitions and addresses general concerns about the quality of educational experiences at Canadian universities. It could be used to inform policy development with regard to student academic growth, career counselling, and student retention. This research is specific to a General Study Faculty at a large commuter university and resultant generalizations may vary in applicability for other undergraduate programs.
Table of Contents
CHAPTER ONE
INTRODUCTION

CHAPTER TWO
LITERATURE REVIEW
Higher Education in Context
Student Transition Experiences
Student Tuition and Part-time Work
Considering Gender
Student Development
Gender and Educational Experiences
Summary


CHAPTER THREE
THEORETICAL FRAMEWORK FOR EXAMINING TRANSITIONS IN A PILOT FIRST-YEAR SEMINAR

Introduction
Transition Theory
Transition Models in Higher Education
Re-conceptualising Transition Models
Proposed Conceptual Model


CHAPTER FOUR
METHOD OF INQUIRY

Introduction
Research Questions
Theoretical Perspective
Phenomenography as a Research Strategy
Research Design
Data Analysis and Interpretation
Reliability
Validity 144 The Researcher
Ethical Standards


CHAPTER FIVE
A PRIORI THEMES: DATA RESULTS

Reporting Quantitative Results from the Questionnaire
Reporting Qualitative Results from the Interviews
Quantitative Results: Questionnaire Context
Interview Findings: Transition Patterns—Easy Passage
Interview Findings: Transition Patterns—Ongoing Personal Social Problems
Personal/Institutional Information
Interview Findings: Transition Patterns—Floundering


CHAPTER SIX
EMERGENT THEMES: DATA RESULTS
Emergent Themes
Interview Findings

CHAPTER SEVEN
DISCUSSION

Summary of Study
Responses to Research Questions

Research Question One

Student Background Attributes
Easy Passage
Ongoing Personal and Social Problems
Floundering

Research Question Two

Transition Experiences, Classroom Experiences, Social and Academic Involvement
Easy Passage
Ongoing Personal and Social Problems
Floundering


Research Question Three

Transition Experiences, Institutional Fit, Educational Goals
Easy Passage
Ongoing Personal and Social Problems
Floundering

Research Question Four

Gender and Transition Experiences
Gender and Institutional Fit
Gender and Educational Goals

Research Question Five

Relationships, First-year Seminar, Academic Identity, Sense of Community
Easy Passage
Ongoing Personal and Social Problems
Floundering

Revised Model 336

CHAPTER EIGHT
CONCLUSIONS

Introduction
Commonalities of Transition Patterns
Implications for Theory
Implications for Practice
Institutional Implications for Practice


General student advising
Programme selection
Mentoring
Creating initial academic and social connections
First-year seminars
Support for women
Building campus involvement and sense of community


Student Transition Patterns: Implications for Practice
Implications for Policy
Limitations and Delimitations
Future Research



APPENDIX A:
Standardized Open-ended Interview Questions
BIBLIOGRAPHY
INDEX

Other Education & Educational Teaching Methods Books