Difficulty in Translating Modern Arabic Literature for the Modern World: Reconsidering the Work of Translation From a Semiotic Perspective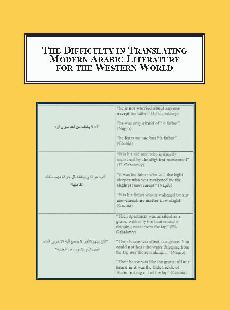 Author:

Al-Masri, Hanada

Year:

2010

Pages:

224

ISBN:
0-7734-1432-0
978-0-7734-1432-7
Price:

$179.95

+ shipping
(Click the PayPal button to buy)
This work is one of only a few studies to deal with the translation of Arabic literature from a purely semiotic perspective (that has linguistics and culture as its focal points). This work demonstrates that the key to understanding the nature of losses and achieving equivalence is to follow a semiotic approach to translation.

Author's Abstract:
This work deals with the issue of losses/inequivalence occurring in the translation of Arabic literary texts. It is hoped to enrich the research carried out so far in the fields of translation and Arabic language research. It attempts to explain the nature and causes of losses occurring in translation by investigating the strategies used by translators to achieve equivalence.

The work will appeal to scholars and translators. Being aware of the types of losses, translators will better attain to target readers who are unfamiliar with the Arabic language and culture. In literary translation, the translator will better serve target readers by taking into consideration issues like the aesthetic values of the Arabic literature, maintaining the literary style of Arab authors and faithfully reflecting the beliefs, attitudes and ways of thinking of the Arabic culture. In short, the book is hoped to facilitate cross-cultural understanding.
Reviews
". . . a refreshing contribution to the scholarship in the field of literary translation and a crucial guide for Arabic literary translation practitioners."
– Prof. Ikram Masmoudi, The University of Delaware

From the Foreword:
"The book raises several issues, not only regarding the translated works, but also addressing the translators themselves, suggesting that a translation produced by a native of the source language and culture may not necessarily be superior to that of a native of the target language."
– Prof. Muhammad S. Eissa, University of Chicago


Other Translation Studies/Translation Books