Vocal Settings of Rabindranath Tagore's gitanjali ( Song Offerings): Fusing Western Art Song with Indian Mystical Poetry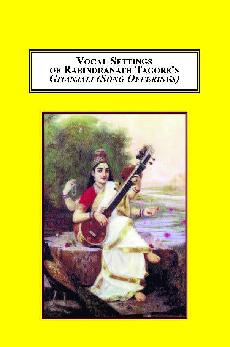 Author:

Rayapati, Sangeetha

Year:

2010

Pages:

148

ISBN:
0-7734-1405-3
978-0-7734-1405-1
Price:

$139.95

(Click the PayPal button to buy)
This book examines the contributions of John Alden Carpenter, Arthur Sheperd, and Jean Cras to the dissemination of Rabindranath Tagore's Gitanjal (Song Offerings) through the medium of art song, in settings designated for a soprano voice.
Reviews
"All of Dr. Rayapati's incisive elucidations are done with the graceful touch of a performing artist-scholar fully engaged with her audience of readers who, when they finish the last page, are left wanting more."
- Carlo Coppola, Ph.D., Editor Emeritus, Journal of South Asian Literature, 1963-2002


About Rabindranath Tagore:
Rabindranath Tagore (1851-1941), India's national poet and 1913 Nobel Prize winner, was, according to Albert Schweitzer, "the Goethe of India." During the Teens, '20s and '30s of the last century, Tagore was one of the most widely read, most universally translated, most often quoted, and most enthusiastically discussed literary and intellectual figures in the entire world. He hobnobbed with The Greats of that era: emperors and princes, heads of state and geniuses, renowned poets, major playwrights, avant-garde artists, politicians of various stripes, and controversial social activists. And he was quite comfortable doing so. He came from a family of wealth, prominence, and distinction. His grandfather--a tall, dark, and handsome prince, entrepreneur, and favorite of Queen Victoria (a slightly jealous, peevish Prince Albert would leave court when the dashing, charismatic Prince Dwarkanath Tagore visited)--was planning at the time of his death to build a Calais-to-Calcutta overland railroad, which, in incomplete, truncated form, became The Oriental Express. Tagore's highly revered father was a powerful voice in an important movement to reform negative aspects of popular Hinduism in the latter part of the 19th century, a period of rapid social, political, and economic change in India.
Other Music & Musicology Books