Two Plays by Christoph Martin Wieland in English Translation: Lady Jane Grey (1758) and Clementina of Porretta (1760)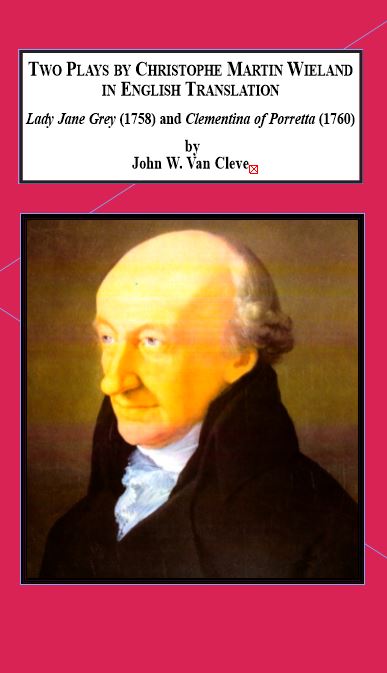 Author:
Van Cleve, John W.
Year:

2018

Pages:

260

ISBN:
1-4955-0647-9
978-1-4955-0647-5
Price:

$199.95

+ shipping
(Click the PayPal button to buy)
Along with G.E. Lessing, and the famous pair, Goethe and Schiller, Christoph Martin Wieland (1733-1813) is a member of the pantheon of German eighteenth-century writers. The plays of Wieland's youth have not appeared in English translation until now.
Reviews
"Young Wieland matriculated at the University of Tubingen to study law, but he was soon attracted attention with lyric poetry that tended toward the metaphysical. The plays of his twenties, Lady Jane Grey (1758) and Clementina of Porretta (1760), do frequently air religious and ethical pronouncements . But they also evince artistic maturation by reflecting their author's growing interest in the interpersonal dynamics at play in politics, family relationships and love. The earlier drama is based on the last year in the life of England's 'Nine-Day Queen' Jane Grey's loftiness of mind and faith is tested by a national politics that quickly falls victim to 'Bloody Queen Mary.' English literature supplies the themes for Clementina of Porretta, who title character was created by the novelist Samuel Richardson. Wieland's Italian Countess Clementina must reject as a suitor the virtuous ever flawless English Knight Grandison, who she deeply admires and lives because as a Devout Catholic, she cannot accept his Anglican faith."

"While English history provided Wieland with rich material for Lady Jane Grey, it was contemporary English literature that supplied him with the second tragic heroine. The writer makes the debt clear in his play's title, Clementina of Porretta, A Drama Drawn from Richardson History of Charles Grandison. Wieland's determination not to just mine English literature for material but to extend familiarity with the tradition throughout the German speaking world led to his translation of 22 Shakespeare plays, which filled 8 volumes (1752-1766). Weiland founded The German Mercury (Der deutsche Merkuur) in 1773. It soon became the most important literary review in Central Europe.
Table of Contents
Translator's Preface

Lady Jane Grey

Wieland's Footnotes to Lady Jane Grey

Clementina of Porretta

Translator's Commentary
Other Performing Arts and Drama Books
More Books by this Author