Thematic and Methodological Foundations of Alfred Hitchcock's Artistic Vision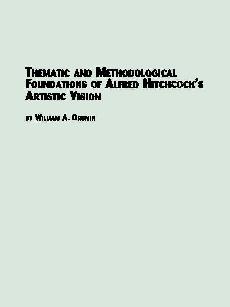 Author:

Drumin, William A.

Year:

2004

Pages:

442

ISBN:
0-7734-6292-9
978-0-7734-6292-2
Price:

$259.95

+ shipping
(Click the PayPal button to buy)
Although Alfred Hitchcock has been dead for over 24 years, his films still command widespread public interest and appeal. As true classics, they exhibit a persistent power to engage and enchant that transcends the limitations of time and culture. This work explores on a basic level the sources of the dramatic power of Hitchcock's films.

An introductory chapter gives a brief outline of Hitchcock's career and the primary features of his approach to filmmaking. A concluding chapter surveys the elements of Hitchcock's humanistic vision. Two appendices illustrate Hitchcock's power to reveal inner character through cinematic means.

Through a scene-by-scene analysis of 14 major films, this book examines the modes of cinematic expression through which Hitchcock deploys themes and motifs that express profound philosophical/humanistic concerns and through which he establishes enduring contact with his audience in memorable images, compositions, and montages. For each film, a summary commentary draws together the themes and characterizations to help appreciate the film as a dramatic unity and to relate the film to Hitchcock's broader vision. This work will be invaluable to all in film studies.
Reviews
"Before Woody, before Spielberg, before Scorcese, before Tarantino, there was Hitchcock, a director who broke new cinematic ground and changed the way we watched movies. Careful, thorough, precise, and provocative, makes clear why this director is worthy of serious attention. This masterful study of "the master of suspense" is an essential companion to the screening and discussion of fourteen classic films, required reading for everyone from Notorious novices to Hitchcock aficionados. William Drumin, a passionate fan of Hollywood's golden age has taught a college course on Hitchcock's films for over a decade. Here he strikes just the right chord in his symphonic survey, analyzing each film scene by scene, commenting, critiquing, probing, yet not losing sight of his reading audience nor the film under consideration. Engaging and elegantly written, this work explores the socio-political, ethical, aesthetic, and metaphysical implications of the Hitchcock corpus … Drumin aptly illuminates Hitchcock's play with appearance and reality, a theme that recurs throughout Western literature and Western philosophy. What we come to see is that with Hitchcock, what you see is not always what you get. Highly observant in noting and connecting elements of the plot, deeply sensitive to Hitchcock's narrative style and technique, Drumin captures Hitchcock's striking vision of the universe-flawed, subject to evil, yet open to salvation-in which the destructive and seductive powers of evil are such that we are perversely attracted to chaos and violence. In this universe, the individual, like society, is capable of redemption but not perfection." – (from the Commendatory Preface) William Irwin, Ph.D., King's College

"With his work, Professor William Drumin provides filmgoers, critics, and students of film and philosophy, with an important new look at one of the most influential directors of all time. Drawing on his decades-long experience in teaching the films of Alfred Hitchcock as both works of art and objects of philosophical contemplation, Dr. Drumin has created an entertaining, thought-provoking work that will be a welcome addition to shelves already bruiting Hitchcock "elementals" such as Donald Spoto's Art of Alfred Hitchcock, Patrick McGilligan's Alfred Hitchcock: a Life in Darkness and Light, and Truffaut's seminal insider's look at the director's craft. The book is divided into fourteen splendidly written main chapters, each dealing with at least one of the maestro's major films. Two chapters each make up the seven larger sections of the book, which are divided according to philosophical theme: Rites of Passage, Monsters of the Id, Metaphysical Excursions, etc. Comprising incisive critical thought and a broad philosophical context, this book could only have been written by a comprehensive mind such as Dr. Drumin's, who is competent in Mathematics and Astronomy as well as Philosophy and Cinema. This is one book which will be read both for the sheer pleasure of interacting with the author's own brilliance, as well as for the specific subject matter it contains." ?Charles S. Kraszewski, PhD. Director of Honors, King's College, Wilkes-Barre, PA
Table of Contents
Preface
Foreword
Acknowledgements
Introduction
Hitchcock Light and Dark
Chapter 1. The 39 Steps (1935)
Chapter 2. Sabotage (1936)
Rites of Passage
Chapter 3 Young and Innocent (1937)
Chapter 4. Shadow o/Doubt (1943)
Recovered Innocence
Chapter 5. Notorious (1946)
Chapter 6. Saboteur (1942)
Monsters from the Id
Chapter 7. Rope (1948)
Chapter 8. Strangers on a Train (1951)
Telling Illusion From Reality
Chapter 9. Stage Fright (1950)
Chapter 10. Rear Window (1954)
Metaphysical Excursions
Chapter 11. Vertigo (1958)
Chapter 12. The Birds (1963)
Hitchcock Dark and Light: Reprised
Chapter 13. Frenzy (1972)
Chapter 14. North by Northwest (1959)
Summary: Hitchcock's Primary Philosophical Themes
Appendices: Cinematic Explorations of Consciousness
Appendix 1. Suspicion (1941)
Appendix 2. Breakdown (TV Short Film, 1955)
Bibliography
Index
Other Film & Cinema Studies Books