The Trial of White Nationalist Dylann Roof: Killer of Nine Black Christians in Their Charleston Church (paper $19.95 net)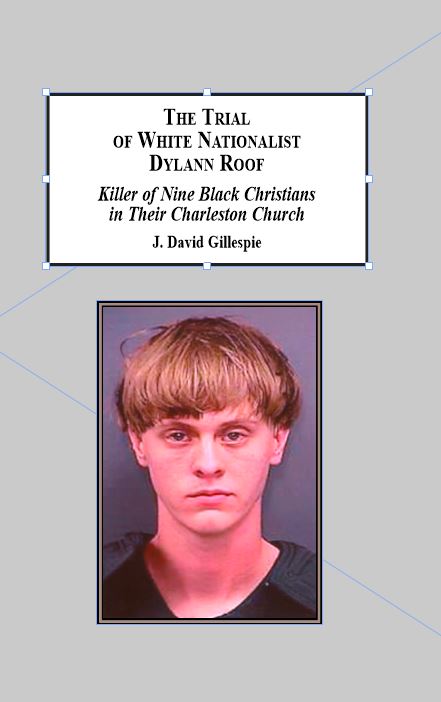 Author:
Gillespie, J. David
Year:

2017

Pages:

224

ISBN:
1-63313-020-7
978-1-63313-020-3
Price:

$19.95

(Click the PayPal button to buy)

To order this book by telephone call: 1- (716) 754-2788

This work is a description and analysis of the trial of Dylann Roof, the murderer at the center of the Mother Emmanuel AME church massacre which claimed the lives of 9 church members. Dr. Gillespie gives an eyewitness account of the trial process, jury selection, and testimony that led to Roof's conviction.
Reviews
"Dylann Roof and his federal trial – the killer's background and what he did and why (much of that revealed in testimony and evidence presented at the trial or released after it ended), the people Roof murdered and the lives he impacted, and the relevant happenings before and during the trial in which a jury found him guilty and sentenced him to die – that is the story you now have before you. It is a story which can provoke anger but wrench the heart. I think that you will find that it is also informative as presented here. I hope that you will conclude that the narrative has been truthfully told and that it does justice to everyone concerned."
Table of Contents
Author's Preface

Acknowledgements

Chapter 1: Race Murder in a Historic Black Church

Chapter 2: Constitutional and Legal Foundations of the Trial

Chapter 3: Preliminaries and Preparations for Trial

Chapter 4: Beyond the Jurors' Gaze: The Secret War Between Roof and His Defenders

Chapter 5: The Rest of the Dylann Roof Story

Chapter 6: United States v. Roof as Theater

Chapter 7: Daily Events in the Trial of Roof: The Guilt Phase

Chapter 8: Daily Events in the Trial of Roof: The Sentencing Phase

Epilogue: Crime and Due Process: Two Scenes Connected

Timeline of Major Events

Appendix: Roof's The Last Rhodesian Manifesto

Index
Other Religion & Society Books
More Books by this Author