Red River Gold Mines of Northern Taos County, New Mexico: An Annotated Bibliography of Geology, History and Historical Archaeology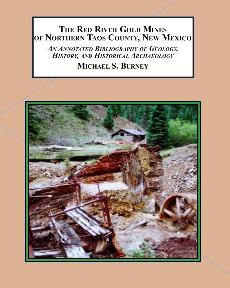 Author:

Burney, Michael S.

Year:

2015

Pages:

608

ISBN:
1-4955-0330-5
978-1-4955-0330-6
Price:

$339.95

+ tax & shipping
(Click the PayPal button to buy)
This remarkable compilation is intended as a list of cultural resource management (CRM) sources to be used by investigators pursuing hard-rock gold mining archaeological research and its role in the cultural heritage of the American West. This is an invaluable bibliography for archaeologists, geologists, historians, and miners and has never been available before in one comprehensive text.

Reviews
"Mining is a common theme in contemporary cultural resource management (CRM). This book is an excellent illustration of the bibliographic sources that need to be used to conduct the cultural resource management of mining in the American West. The bibliography is focused on and organized around CRM research projects having to do with placer and hard-rock mining in Taos and Colfax counties in northern New Mexico, especially along Bitter, Pioneer, and Placer creeks. Much of the research was done to comply with CERCLA, the Comprehensive Environmental Response, Compensation, and Liability Act of 1980."
-Dr. Donald Hardesty,
Professor Emeritus,
University of Nevada, Reno

"There is a definite need for this highly useful reference in the expanding field of historical archaeology… For historical archaeologists and historians in academe, such as myself, I highly recommend this volume as a place to direct a student who is beginning the process of becoming conversant in the various specialties with which we must contend."
-Dr. Richard A. Goddard,
Adams State University, CO,br>
"The bibliography is a strong reflection of Burney's training at the University of Idaho under the eye of Dr. Roderick Sprague, who was a keen advocate of compiling bibliographies as a way to advance research… its coverage provides useful references of regional importance for mining throughout New Mexico, Colorado, and beyond… The benefit of such a resource is its identification and evaluation of not only commonly used, basic references for historical archaeology and New Mexico mining, but harder to find, yet invaluable, references that are not readily available or known to researchers. These are the gems that result only from painstaking research efforts, and their identification positively facilitates the work of future investigation."
-Jonathan C. Horn,
Alpine Archaeological Consultants, Inc.


Table of Contents
Foreword by Dr. Donald Hardesty
Alphabetical Bibliography
Subject Index

Other Bibliography Books