Overcoming Cycles of Violence in Rwanda: Ethical Leadership and Ethnic Justice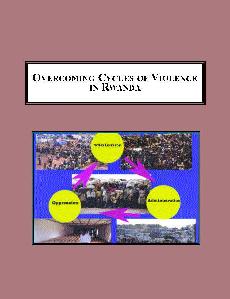 Author:

Ntagengwa, Jean Baptiste

Year:

2010

Pages:

568

ISBN:
0-7734-1411-8
978-0-7734-1411-2
Price:

$319.95
This book draws upon Paul Tillich's method of correlation and Stephen B. Bevans's translation and praxis models of contextual theology to develop perspectives on social changes. Its theory of ethical leadership is informed by drawing contrasts among
different social change theories and practices, including those of Martin Luther
King, Jr., Paulo Freire, Camilo Torres, and Nelson Mandela.
Reviews
"[this] book provides an excellent discussion of current and potential future sociopolitical conditions in Rwanda. It might catalyze, too, considerations by people in other contexts to develop their own bricolage, and effect positive and enduring social change."
– Prof. John Hart, Boston University

From the Foreword:
". . . if the local is indeed global, then the African palaver that Ntangegwa presents also begs of us . . . to learn to look deeply and listen intensely to the story of Rwanda, retold by one of her dear sons who dares to look beyond the tragic existence of humanity and to imagine the possibility of a beloved community—a larger house, a world house. "
– Prof. Walter Earl Fluker, Boston University

Table of Contents
Author's Abstract:
This book wrestles with the problem of social and political evil that manifests itself in vicious cycles of conflict and oppression. In Rwanda, such cycles started in the 16th century, when rivalry emerged among the Tutsi clans that had become numerous in the eastern part of Rwanda. Some Tutsi pushed westward, aggressively invaded Hutu principalities, and used weapons to conquer and dominate them. Today, in the aftermath of murderous genocides, this book contends that it is urgent and necessary to break the cycle of violence that has alternated since then between Tutsis and Hutus in order to build a community itagira umwaga (where no one cringes and where people are generous).

This book concludes that Rwandans need to work collaboratively to eliminate violence and institutionalized injustice, and to install ethical leadership, in order for conflicts between Hutu and Tutsi to diminish and eventually be eliminated. It presents proposals and a challenge for reconciliation between Hutu and Tutsi.
Other Rwanda Books