Napoleon and the First Empire's Ministries of War and Military Administration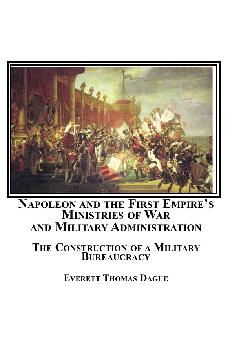 Author:

Dague, Everett Thomas

Year:

2006

Pages:

248

ISBN:
0-7734-5613-9
978-0-7734-5613-6
Price:

$179.95

+ tax & shipping
(Click the PayPal button to buy)
The original archival research contained in this work redefines the nature and position of Napoleon's Ministry of War. Under the First Empire the Ministry developed as a combined action of competing administrative authorities. Stable and self-referencing, the Ministry was flexible, which reflected its growing professionalization. Under the Ancien Regime, the Revolution, and the early Empire administrative officers were often chosen for other reasons than administrative ability, and always subject to the influence of military and civilian outsiders. This work examines the development of the army's field and bureaucratic administrative operations. This examination includes the creation of a professional class of administrators during the course of the seventeenth century and, in particular, during the French Revolution and the bureaucratic development of the Ministry of War between 1799 and 1814.

While the field and bureaucratic operations are surveyed as an evolving process, the work also introduces sociometrical analysis by tracking the Napoleonic careers of the major military administrative figures, in particular Minister of War Henri Clarke. The successes and failures of the war administrative bureaucracy are considered by examining the relationships between ministerial-level administrators.

The conclusion stresses the long-term impact of the Napoleonic military-administrative experience by discussing the restructuring of the Restoration ministry of war. The reestablishment of the Napoleonic model of military administration in the post-Napoleonic period, and the reemergence of Napoleonic administrative professionals and institutions, created a condition which affected French social, military and political development into the twentieth century.
Reviews
" ... One of Dr. Dague's most useful contributions is the support he provides to the revisionist argument that French logistics were a far cry from the improvisations of popular mythology ... No less important is Dr. Dague's demonstration that the synergy that developed between its bureaucratic operational developments under the Empire created a stabilizing balance that for over a century enabled the army to preserve its autonomy without challenging the political system, no matter what its nature ... Dr. Dague merits the appreciation of the academic community for opening [these] subject[s] with such force and clarity." – (From the Foreword) Professor Dennis Showalter, Colorado College

"Dr. Everett Dague has produced a splendid work, based heavily on archival resources. It will convince readers that Napoleon's Minister of War, Henri Clarke, a first generation Frenchman of Irish descent, should be better known ... Dr. Dague shows that Clarke shaped the war ministry to support Napoleon's campaigns, and created an effective bureaucracy that worked smoothly with French governments for a hundred years. He demonstrates that Napoleon was not his own war minister ... but was heavily dependant on Clarke." – Professor Owen Connelly, University of South Carolina

" ... Future historians cannot ignore this work. Not only is the archival work penetrating and thorough, but the interplay of bureaucratic machinery and personalities in decision making is an area that historians must pay further attention to deepen our understanding of how administrations function and, at times, fail." – Shirley A. Leckie, Professor Emerita, University of Central Florida

Table of Contents
Table of Contents
Foreword by Dennis Showalter
Introduction
1. Preface and Terminology
2. Introduction: The Historiographical Traditions of Napoleonic Adminstration
3. A Revolutionary Ministry of War? Antecedents and Precedents, 1715-1799
4. Bureaucratic Evolution, November 1799 to August 1807
5. The Rise of Henri Clarke
6. Development and Operations of the War Ministry under Henri Clarke, 1808-1810
7. Army-Building, Administrative Operations and the Walcheren Island Colonne Mobile, 1811
8. The Opportunity of Malet
9. The Coming Storm: 1813
10. 1814: Annus Terribilis
11. After the Emperor, Beyond the Empire
12. Structure and Organization of the Ministries of War, War Administration, and Related Offices, 1799-1815
Bibliography
Index

Other France/French: All Subjects Books