Internationalization of European Sports Teams and the Issue of National Citizenship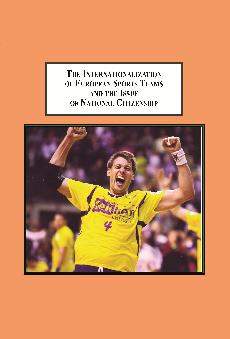 Author:

Alberts, Heike C.

Year:

2011

Pages:

184

ISBN:
0-7734-3941-2
978-0-7734-3941-2
Price:

$159.95

+ shipping
(Click the PayPal button to buy)
Nominated for the 2011 North American Society for Sport History (NASSH) Book Award
The migration of professional soccer players to European countries is not a new phenomenon, but the volume and composition of these flows have changed substantially since the 1990s, when a court ruling established that restrictions on players from other European Union countries violate European Union law. This court ruling not only dramatically changed the national composition of Western European soccer teams, but also of volleyball and handball teams. using geographic techniques, this book investigates current migration patterns of professional players to Western European soccer, volleyball and handball teams. As opposed to previous studies, this study takes a comparative approach, comparing and contrasting not only three sports, but also different Western European host countries. This comparative approach allows the development of a comprehensive framework for explaining these migration flows. This book also analyzes the impact that migration flows have on national teams, as more flexible citizenship rules now allow national teams to draw from a wider spectrum of potential players. The high degree of internationalization of sport leagues in Western Europe, as well as the more flexible citizenship rules in several European countries, show that sports can transcend political borders in a variety of ways.
Reviews
"This research would complement any sports geography course." – Prof. Lisa M. DeChano-Cook, Western Michigan University

"… a 'must read' for anyone seriously interested in the internationalization of European team sports." – Prof. Thomas D. Boswell, University of Miami

Nominated for the North American Society for Sport History 2011 NASSH Book Award.
Table of Contents
Acknowledgements

1. Introduction

2. The Internationalization of Soccer

3.The Migration Patterns of Soccer, Volleyball and Handball Players to Western European Leagues

4. Case Study: Internationalized German Teams

5. Sports and Citizenship

6. Conclusions

References

Index
Other Ethnicity and Race Books