How Their Medical Knowledge Shaped the Poetry of Two Physician Poets: John Keats and William Carlos Williams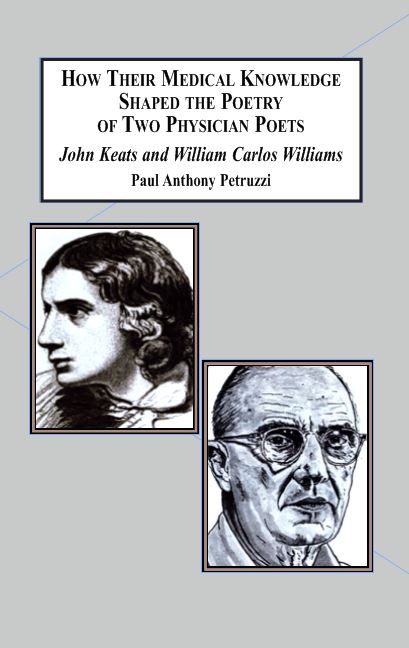 There is an influence of medical training and practice on the perspective and voice in the poetry written by physicians, " a medical perspective." This medical perspective requires keen skills of observation and synthesis, and, like poetry, results in the creation of new concepts from seemingly unrelated elements. This is the case with John Keats, William Carlos Williams, and a host of contemporary physician poets.

This work examines the poets and poetry through the lens of the medical perspective, the synthesizing element between medical practice and poetic imagination.
Reviews
"The modern western view that practicing medicine falls strictly under the realm of science rather than art is, of course, comparatively new, and has been increasingly challenged. In recent years, interdisciplinary programs in medical humanities have grown exponentially at universities and medical schools, exposing blind spots that have developed from modern medical education's ever-increasing specialization. ... Petruzzi reminds us that humanities scholarship, despite its love of interdisciplinary study, sometimes falls prey to similar blind spots and specialization. Petruzzi argues that medical training and practice of Keats and Williams have been treated as mere footnotes in their literary biographies, or, at best, as a means of contrast. ... If we extend our interdisciplinary lens to the past, we can trace the roots of the "humanities" side of medical humanities, and gain new insights to some of our most beloved poets."

Dr. Denise M. Catalado,
Thomas Jefferson High School for Science and Technology


Table of Contents
Foreword by Denise M. Castaldo, Ph.D.

Acknowledgements

Prologue

Introduction

The Medical Perspective in Poetry

John Keats - Apothecary and Surgeon (1795-1816)

Williams Carlos Williams - Hands that Delivered the Babies Also Wrote Poetry

Epilogue

Bibliography

Index
Other Literature - American Literature Books