Contribution of Quaker Women to the Political Struggle for Abolition, Women's Rights, and Peace: From the Hicksite Schism to the American Friends Service Committee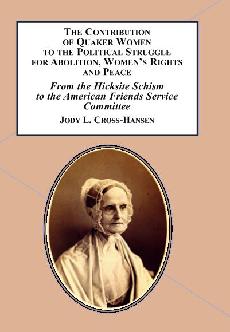 Author:

Cross-Hansen, Jody L.

Year:

2015

Pages:

388

ISBN:
0-7734-0075-3
978-0-7734-0075-7
Price:

$239.95
This book explores the role of Quaker women in social reform during the period from 1790-1920, particularly among the leading female reformers of the Northeast, focusing especially on the reforms of abolition, women's rights and peace.
Reviews
"This book has new and important things to say about the relation between religion and reform, answering questions that have been voiced in the scholarly literature but never satisfactorily answered."
-Dr. Christopher Densmore,
Swarthmore College

"The utility of this volume is its collective assessment of the contribution of Quaker Women. It is a well-documented survey that places the achievement of these women in focus."
-Dr. William McDonald,
University of Virginia

"Jody Cross-Hansen has made a valuable contribution to US history. Her study is among the first published works to treat seriously and with rare scholarship and sensitivity the issue of the role of religious faith and training in the ethos of the great Quaker women reformers who led America through the movements of abolition, women's rights, and peace."
-Professor Blanche Wisen Cook,
John Jay College

"A study which brings the voices of women of valor into focus, and credits them with agency and action, is a valuable contribution. It suggests a bond of sisterhood between woman's traditional role as protector and conservative of what is best in the past, and her other role, as necessary now as it was in the time of Mary Wollstonecraft or Elizabeth Cady Stanton, as a responsible, rational citizen, capable of conviction and innovation, and willing to argue them with the intransigent world. The call to both groups of Quaker Women, and the concern which motivated their achievement, is a call and concern to all of us who seek to understand reform, religion, and gender as models and paradigms to working towards a more equitable and peaceable kingdom."
Barbara Welter,
Professor of History,
Hunter College and The Graduate Center, C.U.N.Y.


Table of Contents
Abstract/Foreword/Acknowledgements
Chapter 1: Introduction
Beginnings Parameters of the Study
Chapter 2: Orthodox and Hicksite Girls: Quaker Training for Leadership in Fundamental Quaker Values
Early Training and Influences: Lucretia Mott
Elizabeth Buffum Chace and Others.
Marriage, Home, Family and Class
Chapter 3:The Schism and the Women Reformers
Theological, Economic and Personal Aspects of the Hicksite Schism
Creedal and Biblical Aspects of the Schism: Hannah Barnard
Chapter 4: Hicksite and Orthodox Abolitionists
Hicksite and Orthodox History
Techniques of the Women Reformers
Persecution From Within the Fold
Chapter 5: Orthodox Originators of the Women's Rights Movement and Suffrage
The Grimke Sisters
Abby Kelley Foster and the Orthodox Women of Worcester and Boston
Chapter 6: The Hicksite Reformers and Women's Rights Movement and Suffrage
The Seneca Falls Convention: Jane Hunt, Mary Ann McClintock, Martha Coffin Wright Susan B. Anthony, Alice Paul and Woman's Suffrage
Chapter 7: 19th Century Peace Witness and the Women Reformers
New England Peace Societies, Quaker Pacifists and the Civil War Hannah Johnston Bailey and the W.C.T.U.
Chapter 8: Early 20th Century Peace Reformers Bring Early Healing of the Schism
Women's International Peace Organizations, Friends National Peace Committee Friends National Committee and American Friends Service Committee Lucy Biddle Lewis, Carolena Woods, Hannah Clothier Hull
Appendix : The Problem of Where the Grimkes "Belong"
Bibliography
Index

Other Politics & Religion Books