Conflicting Interests in Egypt: Political, Business, Religious, Gender, Popular Culture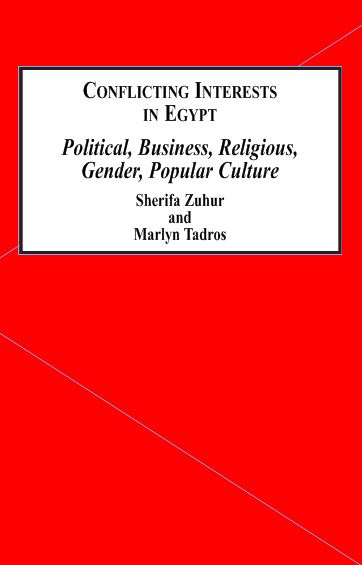 This book explores aspects of politics, protest, security and culture in Egypt in the wake of the January 25, 2011 revolution. These resulted in conflict among various interest groups in Egyptian society and the breaking down of the social foundation of politics.
Reviews
"Egypt was one of the earliest centralized political entities of the ancient world. To all who study politics, it is held up as an example of a society, which unified around the need to manage its resources. ... Spiritual and temporal life were subordinated to a system of authority whose monuments still inspire awe and wonder. Thereafter, an incredible mosaic of Pharaonic, Islamic, Mediterranean, African and western cultures continue to be expressed in Egypt and felt and seen in every lifestyle from the poorest to the most exclusive. For reasons explored in this book, the revolution of January 25, 2011 seems to have eroded the ability of different interest groups in this society to ally, if not unify with each other."
Table of Contents
Introduction

Chapter One: "Egypt's Conspiracies and Occidentalism: Copts, Liberals, Islamists and Salafis", Sherifa Zuhur and Marlyn Tadros

Chapter Two: "What's So Funny? Political Satire in Revolutionary Times", Marlyn Tadros

Chapter Three: "Why Was She There? Public Violence and Victimization of Women in Post-revolutionary Egypt", Marlyn Tadros and Sherifa Zuhur

Chapter Four: "The Terrorist Challenge from Armed Groups in the Sinai Peninsula", Sherifa Zuhur

Chapter Five: Bad, Bad Baladi: Sama al-Masry, Cheerleader of Egypt's June 30, 2013 Transition", Sherifa Zuhur

Chapter Six: "Business as Usual?: A Counterrevolutionary Tale of Pirates, Bullies and Demagogues", Marlyn Tadros
Other Literature - Children's Books