Conception of Mary. A Rhyming Translation of Book V of Le Champion Des Dames by Martin Le Franc (1410-1461)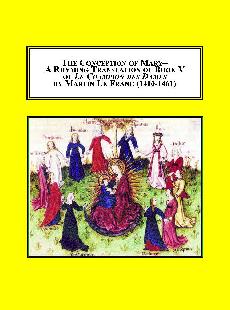 Author:

Taylor, Steven Millen

Year:

2010

Pages:

320

ISBN:
0-7734-1399-5
978-0-7734-1399-3
Price:

$219.95
This translation fills a major need for those unfamiliar with Middle French by granting them access to this nuanced and multifaceted exploration of women's role in society and of Mary's role in the Church. The Conception of Mary provides point of contact between medieval and modern scholars interested in gender studies,
theological questions, and historical attitudes, while also engaging a general audience seeking further insight into these important questions.
Reviews
"Professor Taylor's translation transmits the meaning of the Middle French while preserving the tone and the feel of Le Franc's rhymed verse."
– Prof. Tracy Adams, University of Auckland

From the Foreword:
"There is no rival to Taylor's translation – no other translation in English, modern French, or other languages."
– Prof. William Calin, University of Florida


Table of Contents


Author's Description

The Conception of Mary: A Rhyming Translation of Book V of the Fifteenth-Century Le Champion des Dames presents the culmination of Martin Le Franc's masterwork in defense of women. Here Le Franc explores the controversy surrounding the Virgin Mary's Immaculate Conception, a theological debate that captured the medieval imagination and continues to engage contemporary students and scholars; he entertains his readers even as he makes complex theological arguments more accessible to a wider audience.
Other Romania Books