Black Love and the Harlem Renaissance (the Novels of Nella Larsen, Jessie Redmon Fauset, and Zora Neale Hurston):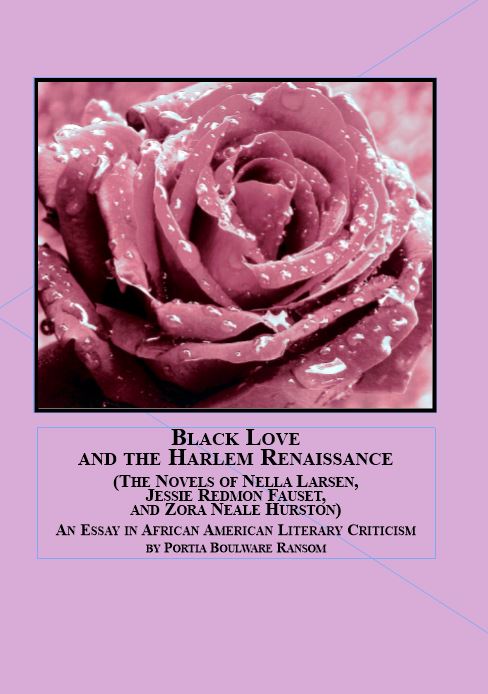 Author:

Ransom, Portia Boulware

Year:

2005

Pages:

212

ISBN:
0-7734-5956-1
978-0-7734-5956-4
Price:

$179.95

+ tax & shipping
(Click the PayPal button to buy)
This book focuses on how Larsen, Fauset, and Hurston use their semi-biographical stories to highlight the tensions between black men and women struggling to define self, to love self, and to value self, as they negotiate the 'politics of intimacy.' Previous scholarship has focused heavily on the obvious themes of these women's works, without examining fully issues such as gender (liberation), self-actualization, and agency. This book fills that void.

This study explores how the politics of intimacy, in the context of black male-female relationships, profoundly affected the (African American) female self in the works of the three leading women writers of the Harlem Renaissance. In addition, this book not only locates their literary significance within the Renaissance itself, but also on contemporary African American writers such as Toni Morrison and Alice Walker and on American literature as well.

This book contributes to an area of scholarship that is still growing; it focuses on some of the works of these writers that have yet to receive much attention; and offers another paradigm by which to consider the broader scope of thematic concerns that these authors address effectively.

This work will appeal to scholars in American Literature, African American Literature, African American History, Cultural Studies, Women's Studies, and Sociology.
Reviews
"This text brings a fresh approach that opens new possibilities for cultural, empirical, and theoretical points of departure vis-à-vis intimacy. In short, we learn that intimacy may be systematically investigated in literary social terms …This book does not neglect the roles played by black male resistance in its examination of the resisting movement ... this text concentrates on the stories written by the super-oppressed women of the Renaissance ... [Martin Luther] King Jr. reminded us, as did the writers of the Harlem Renaissance, that love and justice would be our only salvation. Yet he also taught us that there would be 'some dark days ahead.' This book is a testament to overcoming that darkness ..." (from the Foreword) Anthony J. Lemelle, Jr., Professor and Chair of Africology, University of Wisconsin - Milwaukee

"This book introduces an important new voice in African American literary criticism, one well versed in the work of previous scholars but not content to merely travel along worn paths. Following an opening synthetic chapter that provides a valuable contextual overview of the Renaissance while reassessing the movement in terms of gender, the author proceeds to examine two novels each by the three leading women authors of the period ... In her deeply thoughtful and original readings, the author raises significant questions about the gendering of the Renaissance, suggests valuable new perspectives by which we might interrogate the movement, and uses her thematic focus on intraracial, and to a certain extent, interracial love to investigate the possibilities posited by Larsen, Fauset and Hurston … This is a 'must read' for anyone interested in African American studies, feminist studies, women's novels and twentieth-century American fiction." – Professor Robert P. Lamb, Department of English, Purdue University

"This work contributes a great literary reference for the academic world that accurately depicts the struggles, triumphs, failures, and joys concerning the dynamics of black love and female empowerment during the modern era, which directly parallels the same issues in contemporary society, in her fascinating book … This work sets itself apart from the typical, boring scholarly text because it treats the characters as humans, instead of literary constructs, and integrates several disciplines to shed new light on some old discussions and introduce other works deserving of recognition ..." – Kimberly E. Contreras, Curriculum Facilitator, Guilford County Schools
Table of Contents
Foreword by Anthony J. Lemelle, Jr.
Acknowledgements
1. Speak My Name: Larsen, Fauset and Hurston in Context
2. A New Day: The Harlem Renaissance
3. They Call Me Mrs. Imes, But What Do I Call Myself?
4. To Be or Not To Be My True Self: A Long Journey to Selfhood
5. I'm Free, White, and Twenty-One, So Why Am I Unhappy?
6. Self-Discovery and Recovery Under the Chinaberry Tree
7. Who Cancelled the Well-Advertised Tour of the Moon?
8. Pulling in the Horizon So That My Soul Has A Better View
9. Black Love: Defying Place, Time, and Circumstance
Select Bibliography
Index
Other African-American Studies Books