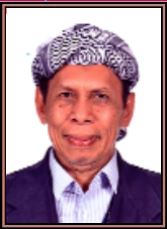 Kadil, Ben J.
Dr. Ben J. Kadil is a Professor in the Department of History and Graduate Studies at Mindanao State University. He received his Ph.D. in Philippine Studies from Mindanao State University.
2018 0-0000-0000-0
In this work, Dr. Kadil creates a comprehensive sociology study of history, politics, way of life, and speech patterns of the society of Mindanao. It collected from a vast array of sources to understand the culture of Mindanao in the past and in the present.
2017 1-4955-0578-2
This work is a narrative on the Mindanao War of 2003 and how it is viewed in the broader context of the Moro Wars, which has been fought between the Muslims and the Spaniards in the Philippines for nearly five centuries. It covers the history of the conflict between the Moro Islamic Liberation Front and the Armed Forces of the Philippines which began in 2003 and continues to the present.
Price:
$199.95